The Emperor of Atlantis
September 1, 2017
No Comments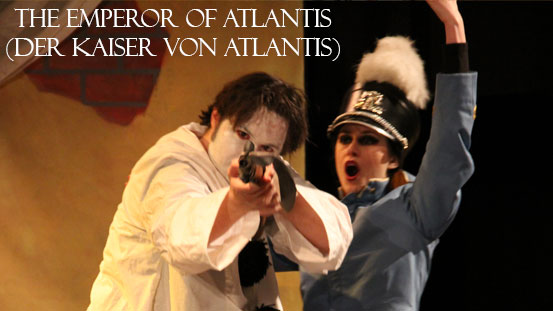 Connecticut Lyric Opera is extremely proud to present the second production of its 2017-18 Season (the company's 15th season), the profoundly moving opera The Emperor of Atlantis (Der Kaiser von Atlantis) by the Jewish composer Viktor Ullmann who was sent to his death at Auschwitz once the subversive nature of this work was recognized by his Nazi captors. Kaiser will be performed throughout the state in March 2018 and in April, CLO will be honored to perform this work in Israel in partnership with the Tel Aviv Chamber Orchestra in honor of Holocaust Remembrance Day on April 11.
Der Kaiser von Atlantis was created in 1943 at the Theresienstadt concentration camp, the "Artists Camp" that was used to deceive the Red Cross and the world to show how well the Jews were living under the "benevolent" protection of the Third Reich. Poets, artists, composers, playwrights, philosophers, business people, families all lived here, for a while… There was an orchestra, various instrumental ensembles, a theatre company and an opera company – there were also torture chambers, tens of thousands of people died from disease or starvation (mostly), and above all, it was a transit camp from which more than 100,000 souls were sent to their deaths at Auschwitz, Treblinka and elsewhere. SS officers attended a final rehearsal of Kaiser in September 1944 and became outraged by what they saw. They shut down the production and shipped composer Viktor Ullmann, librettist Peter Kien, the entire cast, orchestra, and all their families to Auschwitz for immediate liquidation. Only the composition and several of the singers survived.
As the opera opens, the characters Harlequin and Death are reflecting on the sorry state of the world when the Drummer-girl arrives with a proclamation from Kaiser Überall (Emperor Overall) declaring total and universal war, pitting everyone against everyone else. Death is outraged and refuses to cooperate. The Kaiser, who conducts the war through a microphone from his empty palace, learns that despite all the fighting, no one is dying. Hospitals are full of wounded patients who are unable to die. Prisoners are hanged, but remain alive. A soldier and a girl from the enemy side meet on the battlefield and, unable to kill each other, fall in love. The Kaiser is appalled. Finally, Death agrees to relieve the human race of its endless pain by going back to work – on condition that the Kaiser be his first victim.
This fully staged original production, conducted by CLO Artistic Director Maestro Adrian Sylveen, will feature a cast of seven outstanding singers and an eclectic ensemble from the CT Virtuosi Chamber Orchestra. Sung in English translation from the original German, the production opens on Saturday, Mar. 10 at 7:30 PM in Hartford (location TBD) and concludes on Sunday, Mar. 11 at 3:00 PM in New London (location TBD) – these performances are a co-production with the CT Virtuosi.
The production then moves to Israel to present the Israeli premiere of this opera together with the Tel Aviv Chamber Orchestra with 4 total performances in Tel Aviv and Karmiel in honor of Yom Hazikaron laShoah ve-laG'vurah (יום הזיכרון לשואה ולגבורה; "Holocaust and Heroism Remembrance Day").
Performance locations and ticketing information to follow shortly.
Featured, Performances